Oh my, it is so nice and shiny in here now. How did this come about, you ask. A few weeks ago, I won a blog makeover from the wonderful Michelle, at Teach 123.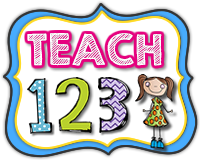 She put me in contact with the extremely sweet and talented Tenille, from Designs by Tenille. Isn't she adorable? Click below to learn more about what Tenille can do for your blog.
A few emails later, and oila! Tenille has created the blog of my dreams! I love it, and I hope it makes you smile when you stop by.
To celebrate, I am running some fun flash freebies tonight over on my Facebook page. Hope you will stop by! Click below to go to my FB page.